I didn't talk about install Google Analytics in any previous blog posts yet but let me refresh your memory a little bit about what we have talked about so far. I have been posting in the last couple of weeks about
setting up a WordPress website
using a hosting company like
WP Health Watch
as the server to install WordPress. Then, I talked about how you could use my
customized Clinic Kickstarter template
to get the
pre-designed website
done in less than 30 minutes. So before you go any further… Before you even start writing any blog posts or adding any new contents on your website, you need to install Google Analytics to start tracking your traffic from day 0! Within this article, you will learn the followings:
Wait…before we go on…
I want to invite you to join my PRIVATE FACEBOOK GROUP –
Kickstart Your Clinic's Website.
Make sure you ask me any questions that you have in how to set up WordPress website and I will help you kick-ass your online marketing as well!
BREAKING NEWS! A Quick Review for my Surface Pro 2017 Edition!
Many probably have wondered how I am able to run my own clinic AND are able to create contents to continue promoting my agency business. Let me tell you, to be like me, you'll need a powerful laptop that you can carry around with you at all time. You also need to make sure it has a strong battery that will last the whole day. Last but not the least, you need a powerful, POWERFUL computer that allows you to do all the digital marketing at the same time. So I'm going to spill the secret today, my ultimate weapon choice –
Surface Pro 2017 Edition
.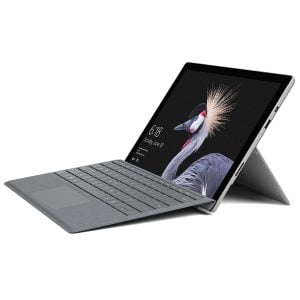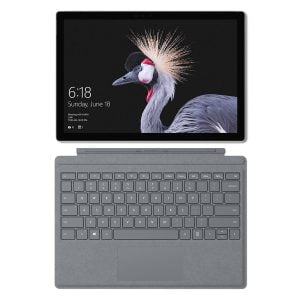 I'm not gonna spill too much today, but you really gotta know that it is the most powerful tool I have ever used! Anyways, let's keep reading on and be sure to expect some in-depth review of 
Surface Pro 2017 Edition
. Let's go!
What is Google Analytics?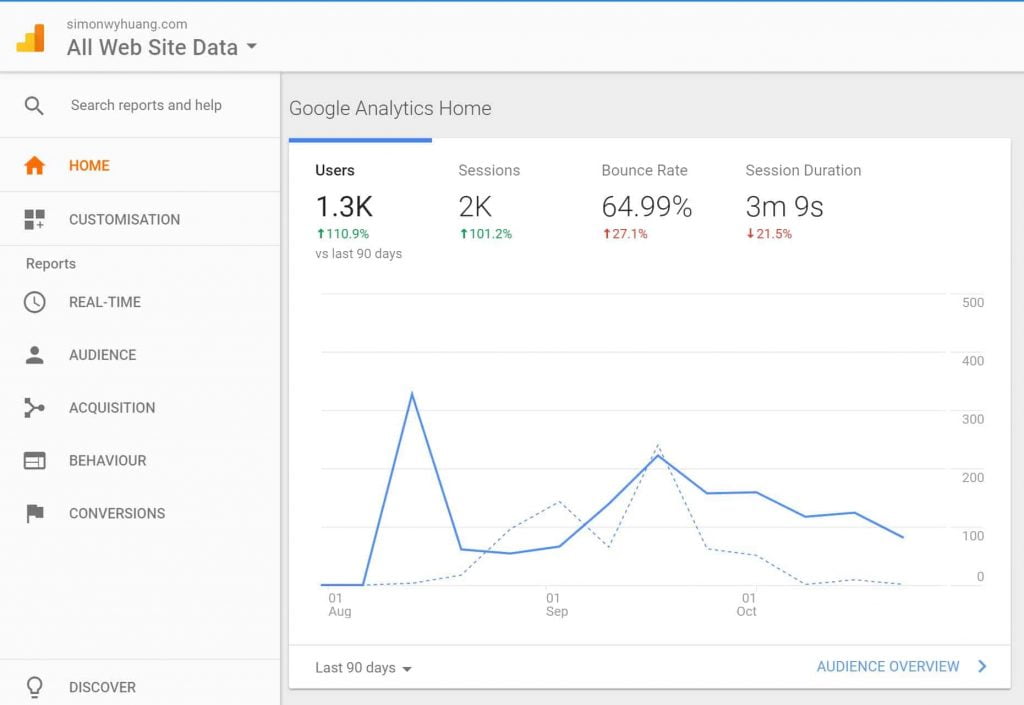 So before we go ahead and install Google Analytics, let's try to understand what exactly is this? According to
Wikipedia
, "Google
Analytics is a freemium web analytics service offered by Google that tracks and reports website traffic…is now the most widely used web analytics service on the internet." Now, just like every other powerful service offered by Google, it's free to use and allows businesses such as acupuncture clinics, chiropractic offices, health boutiques and much more to monitor their website traffic patterns. Combined with Google's other powerful programs such as AdSense and AdWords, businesses can produce a far more accurate and powerful marketing tactics. Of course, you can always start from the beginning and learn from
Google's Official Analytics Academy
where they teach you everything as a beginner to becoming a developer using Google Analytics. I'll be writing a more in-depth guide on how to use Google Analytics as a Pro, but since you're all just starting your websites, let's keep it simple stupid (KISS)!
Here's a fun fact:
"Did you know that back in August 2006, Analytics was an invitation-only product but it was so popular so Google had to make it available for everybody?" Anyways, there are many improvements made since its initial release. First of all, it looks a hell lot better!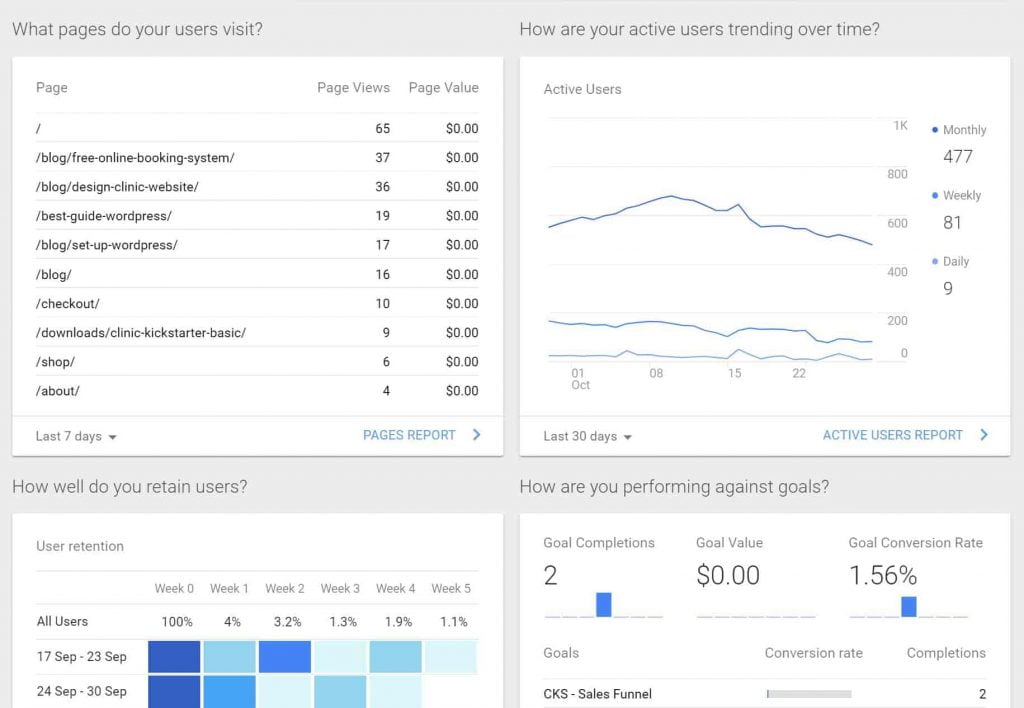 The dashboard in
Google Analytics
has come a long way to improve user experience with digital analytics. Overall, Google Analytics has extended capabilities includes:
Helps build the whole picture by helping you to understand your website users to better evaluate the performance of contents, products, and more…
Google's unique audience data and machine learning capabilities help you get the most out of your data…
Combining Google's own media and publishing contents database so your analytics insights have a real reference
Your data can be easily processed and shared with built-in shareable reports
Now that you know the basic power of Google Analytics, feel free to sign up a professional account for your business through my affiliate link here =>
https://simonwyhuang.com/gsuite/
Let's go on and learn how you can install Google Analytics to your website. Ready?
Create a Google Analytics Account
In order to make this work, you need to sign up a Google Analytics account. So let's go and "Google" analytics: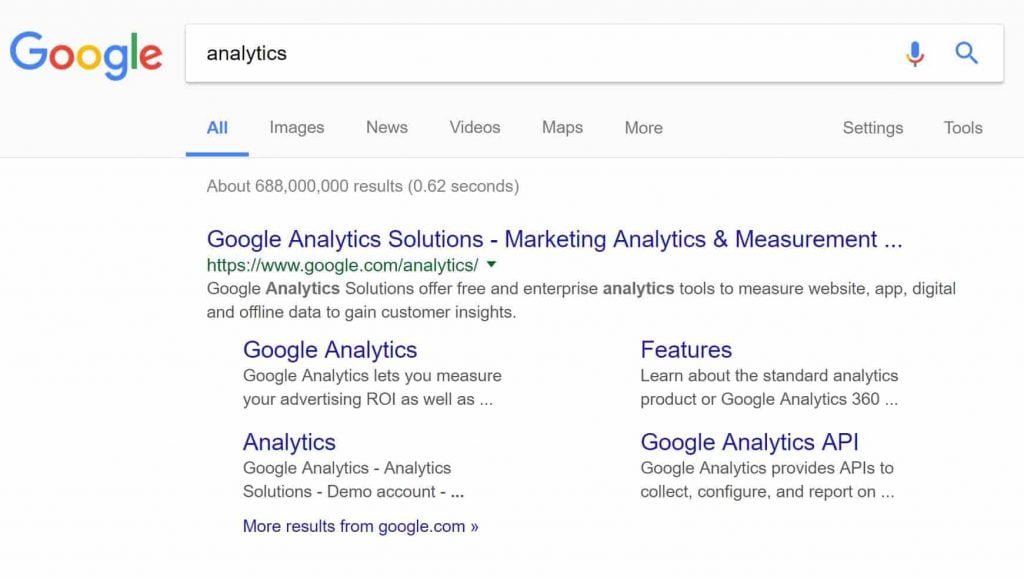 Click on "Google Analytics" to take you to sign up with your Google account: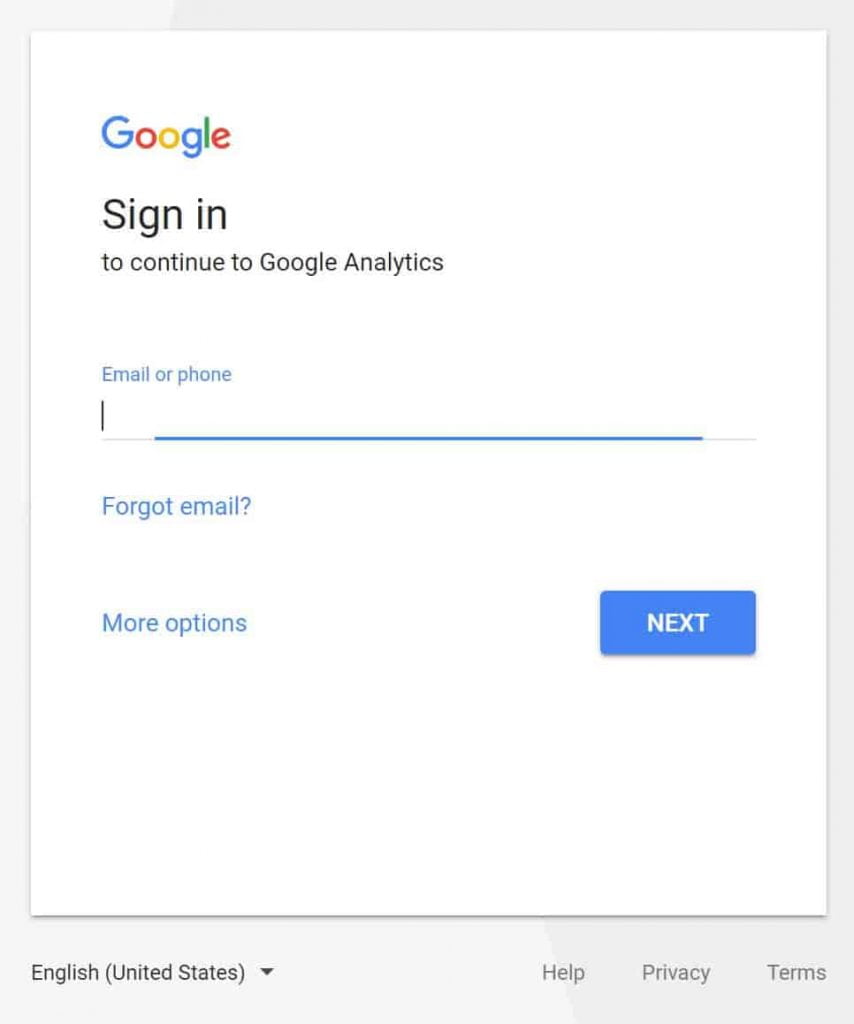 I'm sure most of you have a Google account already, if not, create one, IT'S FREE! Log in and you will be taken to the next screen – the Google Analytics Dashboard: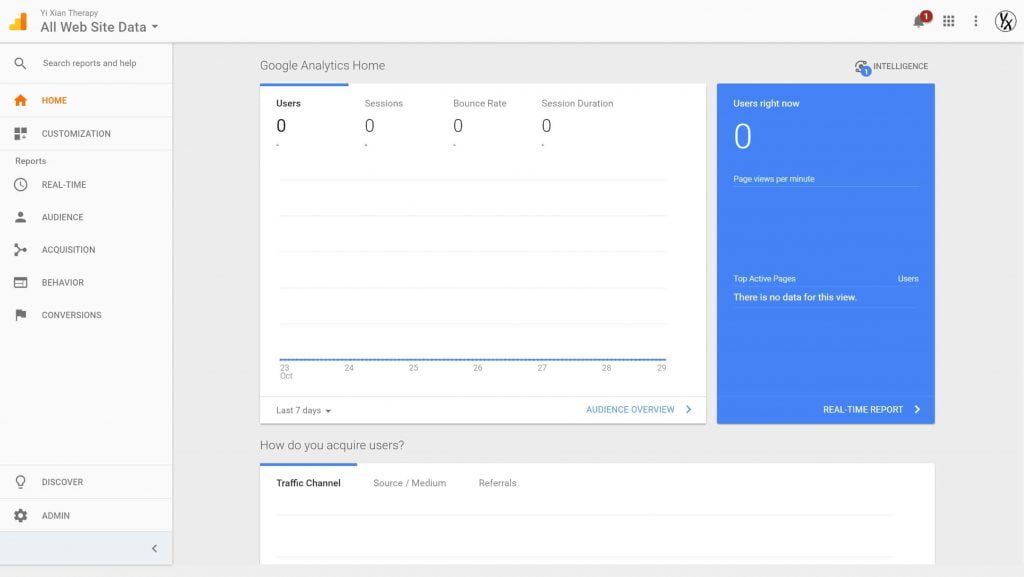 You are not going to see any data right now because you haven't installed it on your WordPress website yet! Let's click on the ADMIN button on the left navigation, you will then get redirected to another screen. You will click the drop-down menu under the ACCOUNT section and you need to create a new account: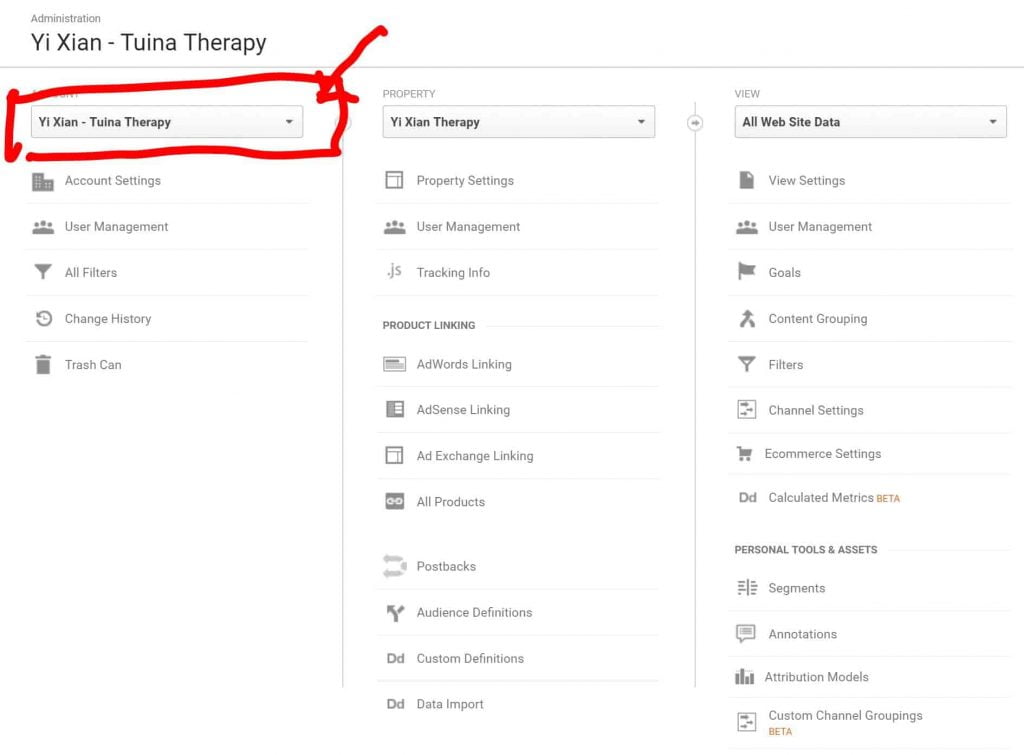 Go to the next page and fill out your website information, and leave everything else to default and click on "Get Tracking ID" blue button.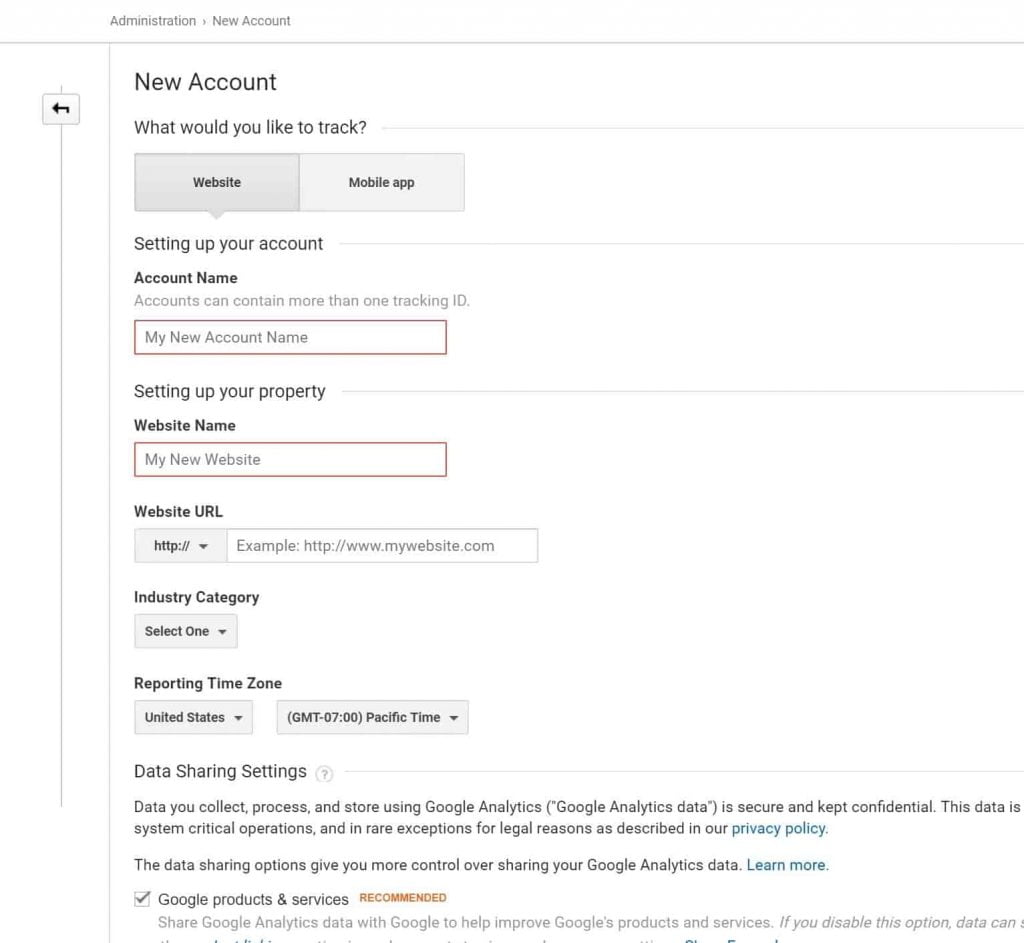 Once you're done with it, you are going back to the Admin screen, you need to create a new property. So like before, click on the drop-down menu under the PROPERTY section. In the next screen, you will see your "Tracking ID", which is what you will need to put inside your website.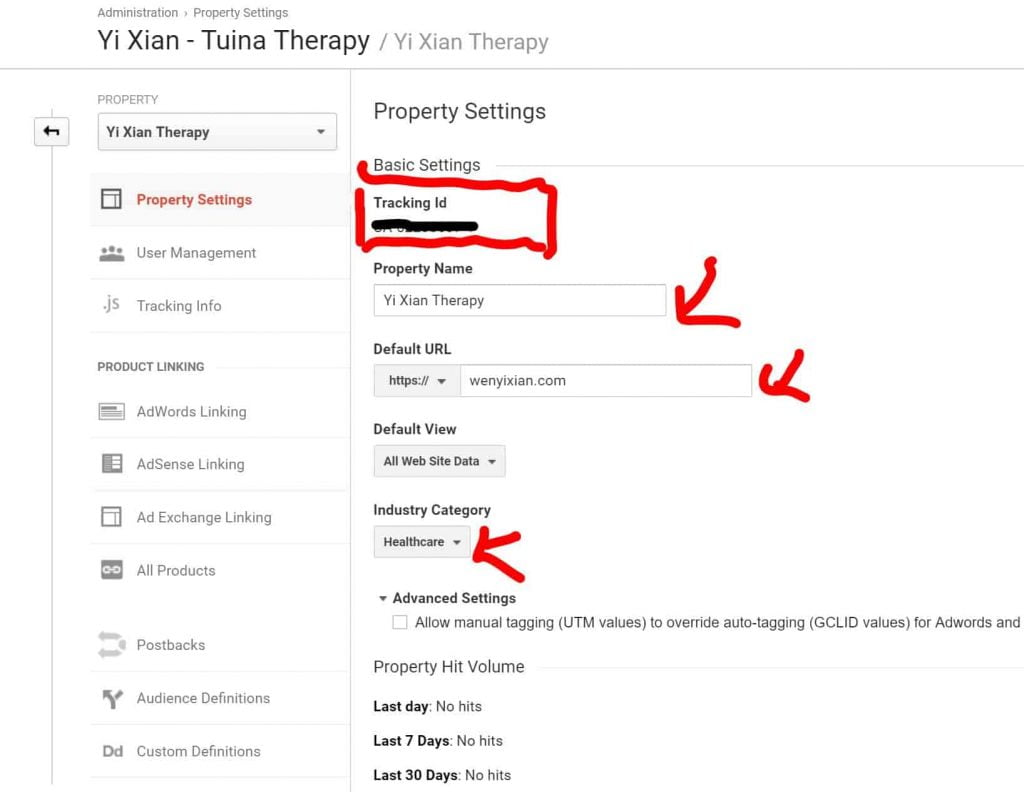 Make sure the property name is your business name, default URL has a prefix of "https://" followed by your website URL. Choose your "Industry Category", if you're a healthcare practitioner like I am, choose "Health Care". Leave everything to default, and click on the blue "Save" button. That's pretty much it for now! You now can install Google Analytics to your website. Ready?
How to install Google Analytics in 3 different ways
Like I have mentioned above, there are 3 ways to install Google Analytics on your website:
Install Google Analytics using a WordPress Plugin
Install Google Analytics with HTML code
Install Google Analytics with Google Tag Manager
Any of these steps would work just fine, but it is more of a personal preference from this point on. But, let's start with method number one!
Method #1 – Install Google Analytics using a WordPress Plugin
Since we're building our website using WordPress, it'd make sense to use its backend
plugins
. Remeber the Tracking ID that you have created in the previous section? We are going to use that for the rest of this blog post. To begin, we need to go to your WordPress website Dashboard. *Note: if you have not created a WordPress website, what are you doing? Go to my blog post "
How To Set Up A WordPress Website From Scratch (FAST!)
" NOW and set up your WordPress website!* *UPDATE – You can also download the plugin directly here => 
https://simonwyhuang.com/monster/
* Once you're in your Dashboard, hover your mouse cursor over "Plugins" and click on "Add New".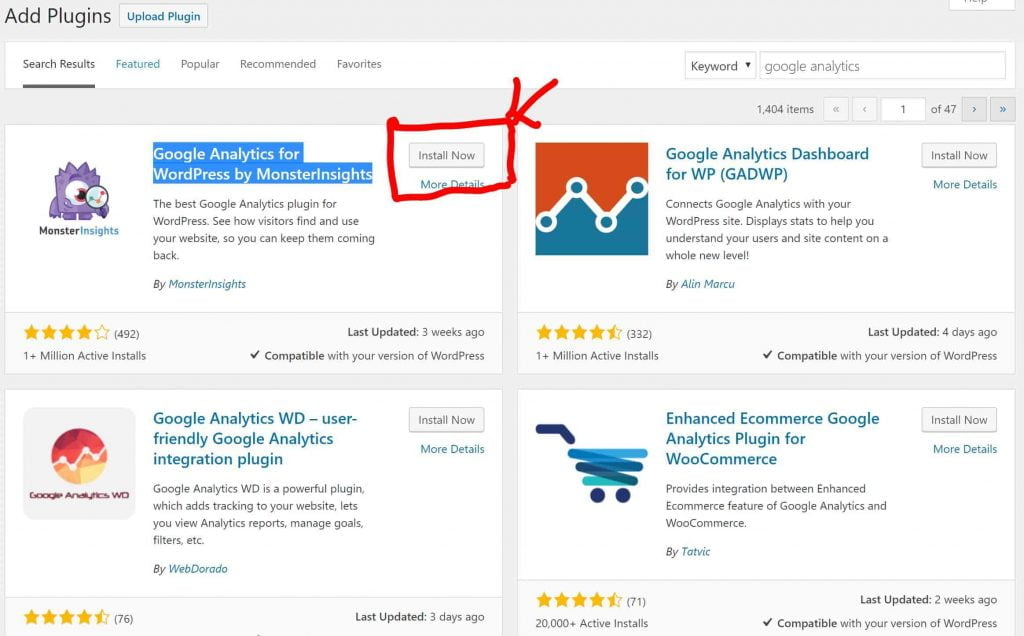 At the search bar, type in "Google Analytics" and you will see "Google Analytics for WordPress by MonsterInsights". Click "Install Now" and "Activate" it. Once you have activated the plugin, go back to the home screen of your WordPress Dashboard. You will now see a notification right beneath the Dashboard header telling you to "Please configure your Google Analytics settings!". Click on that and go to the next screen to take you to MonsterInsights setting page.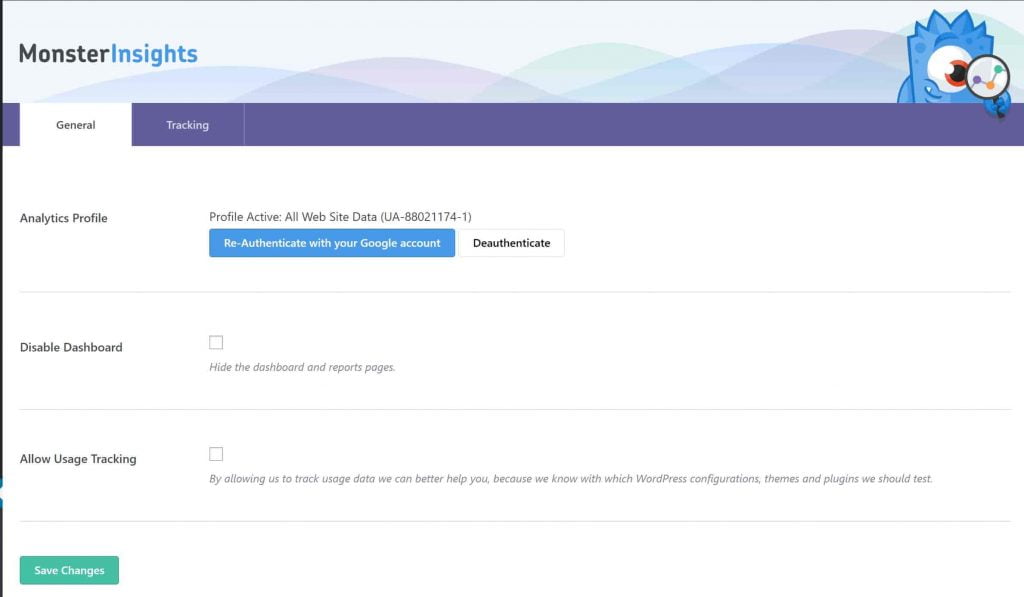 See that blue "Authenticate with your Google Account" button? Click it!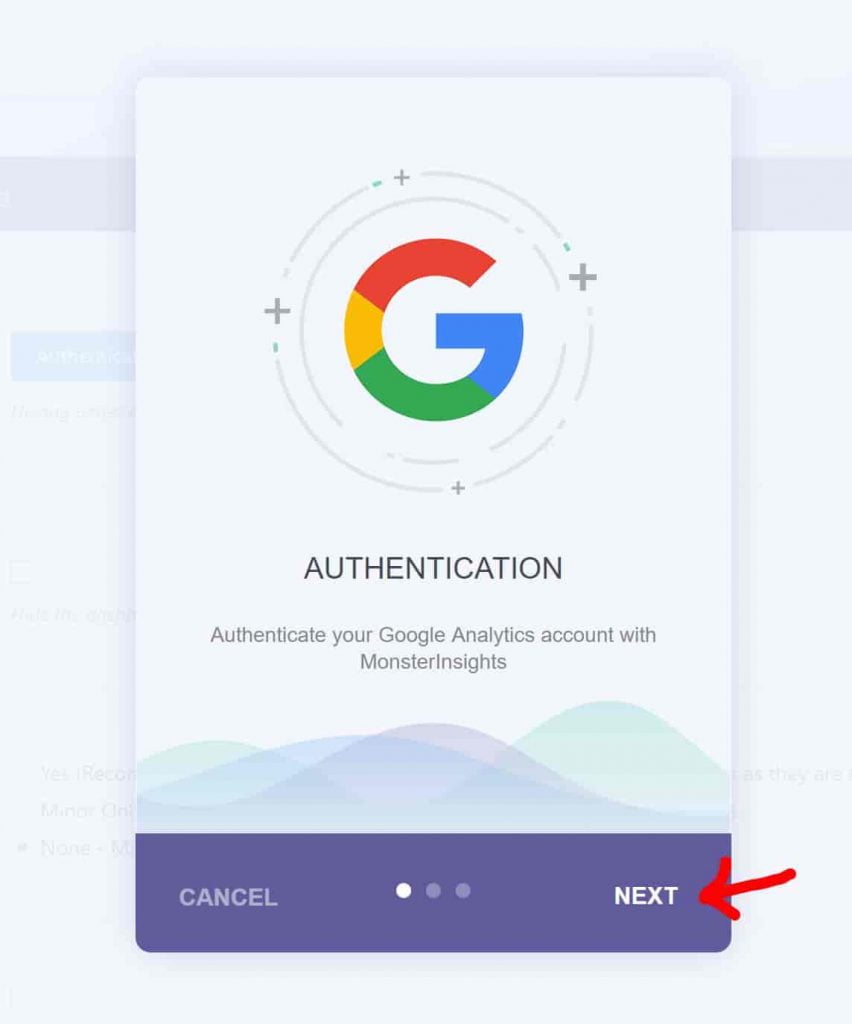 You will see a popup box telling you to authorize your Google Account. Follow every single step but with the Google Account that you just used to set up Google Analytics, which should be the same account for your website.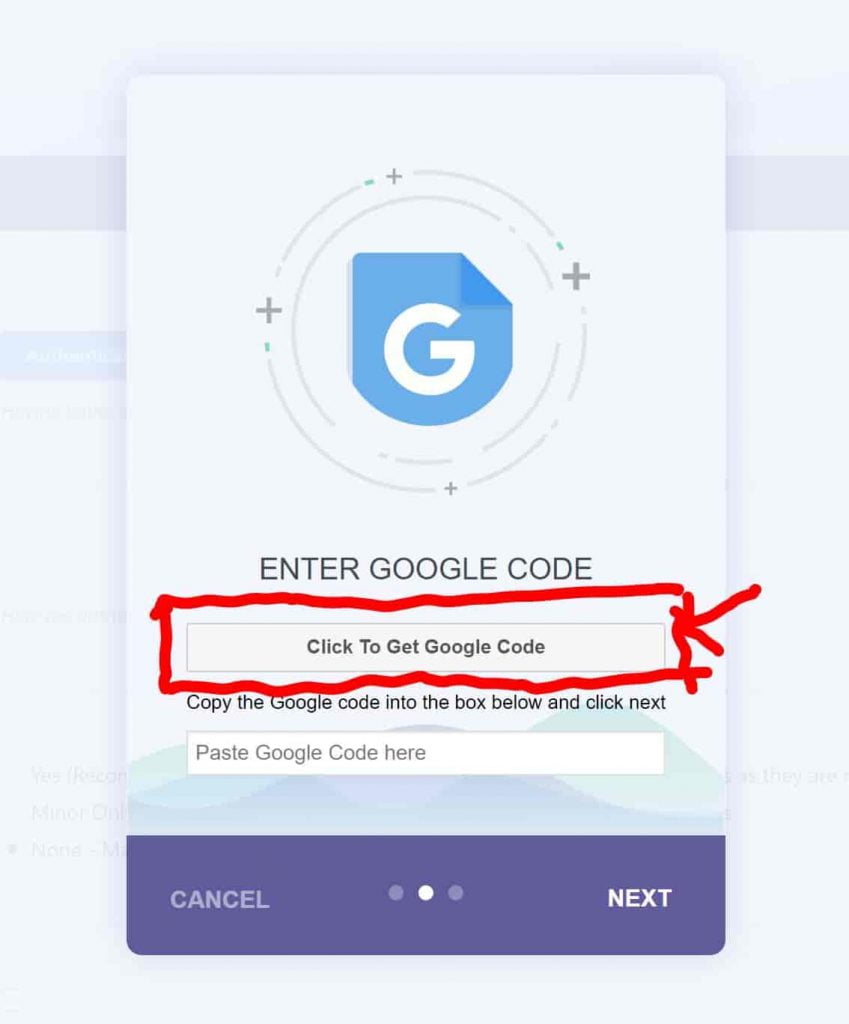 You will get a long code that you need to insert into the bar "Copy the Google code into the box below and click next".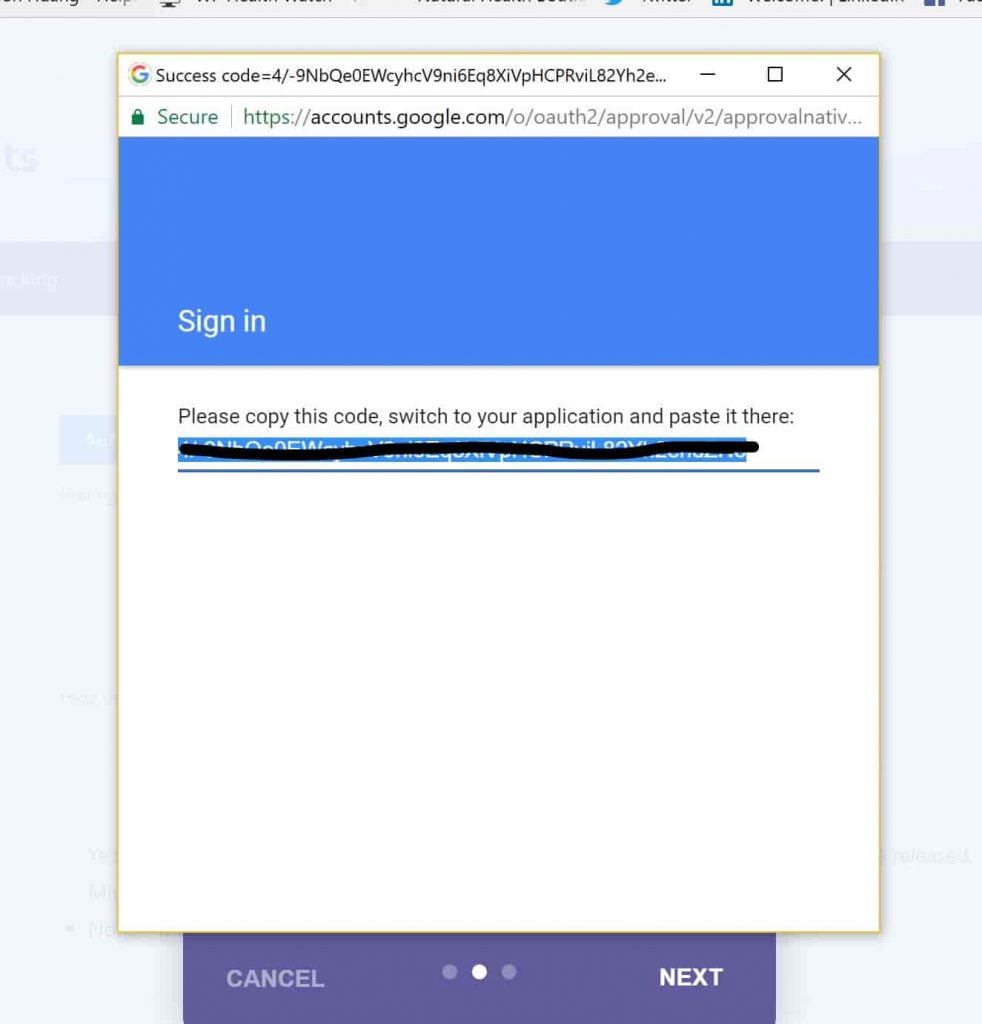 Then, you will select "All Web Site Data" and click "next" and you're done!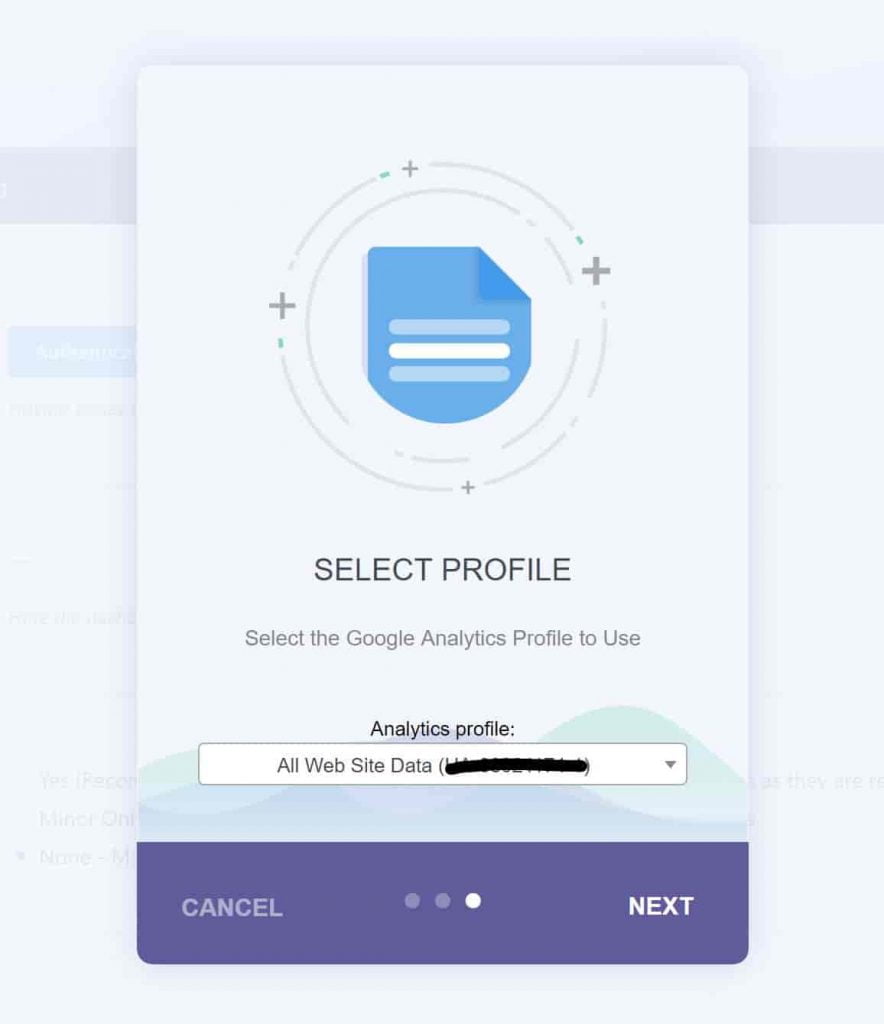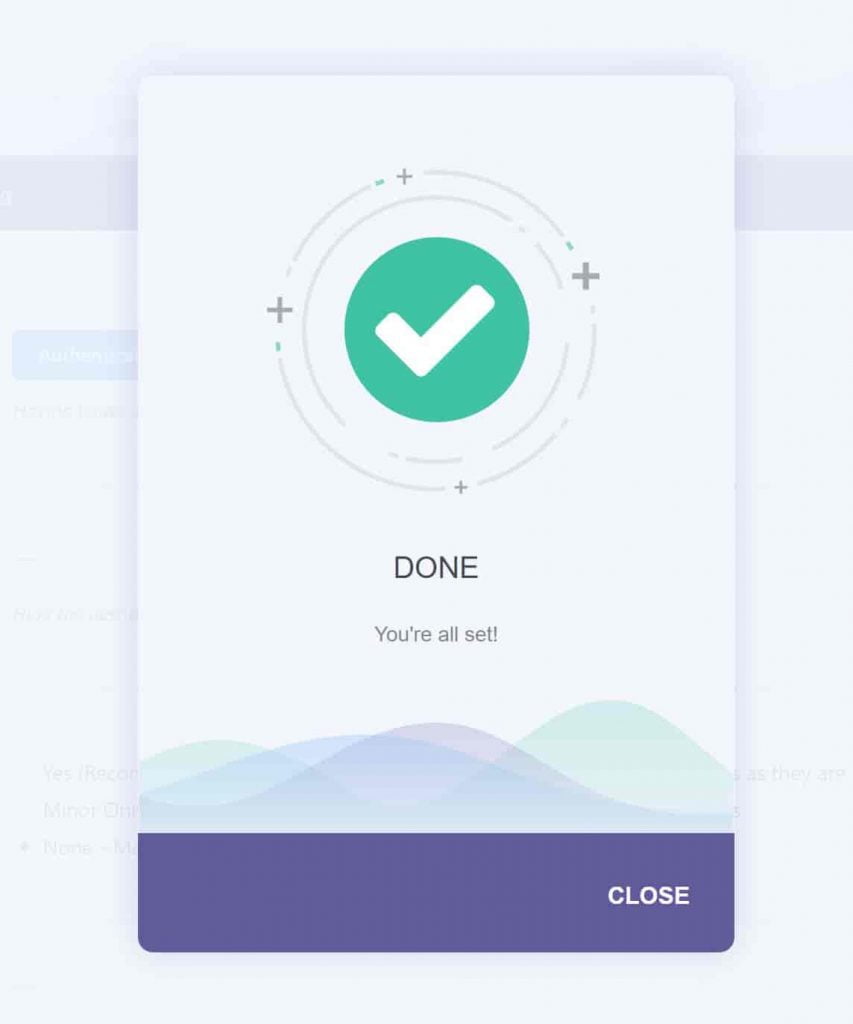 You will be taken back to the MonsterInsights Setting page. Select Automatic Updates as "Yes (Recommended)" to prevent any security breach. Don't click "Allow Usage Tracking" unless you want that company to track your every move. Click the green "Save Settings" button and done. You now can see your Google Analytics data within your WordPress website.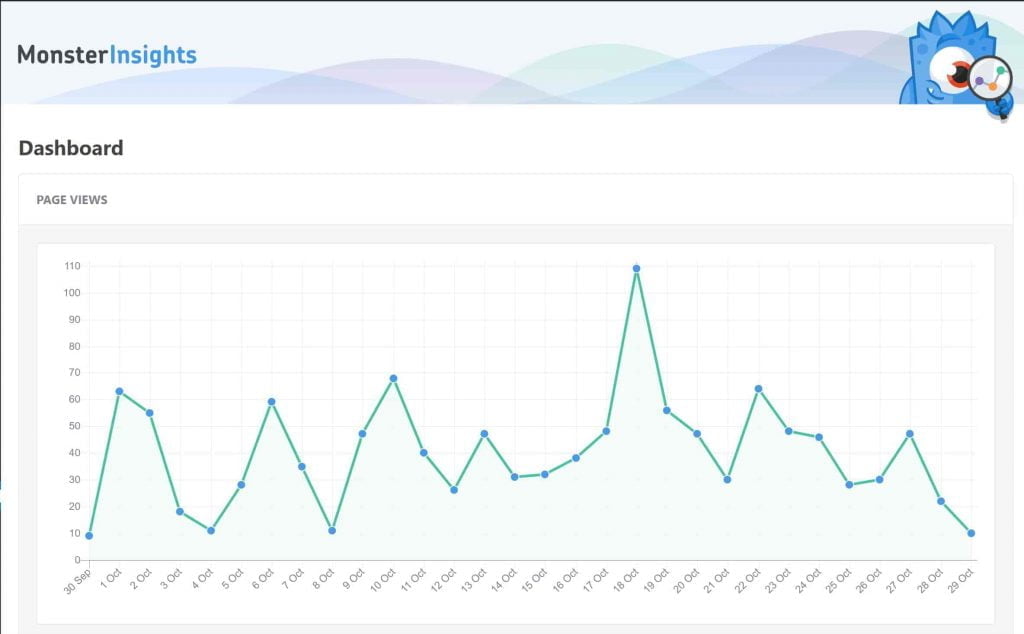 Since I promised you that you can install Google Analytics with another way, here goes the next one!
Method #2 – Install Google Analytics with HTML code
This is actually much easier in my honest opinion. To do so, you gotta go back to Google Analytics ADMIN page. Underneath PROPERTY, click on the "Tracking Info" and then the "Tracking Code":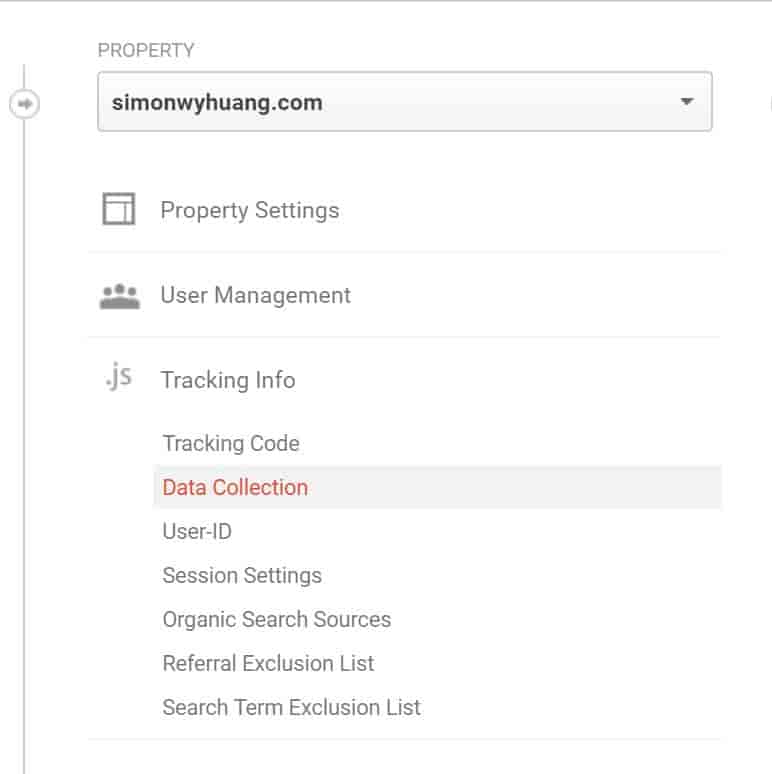 In this page, you will see several important things, but let's focus on Global Site Tag (gtag.js). You will need to copy and paste the whole code in the box into your WordPress HTML header.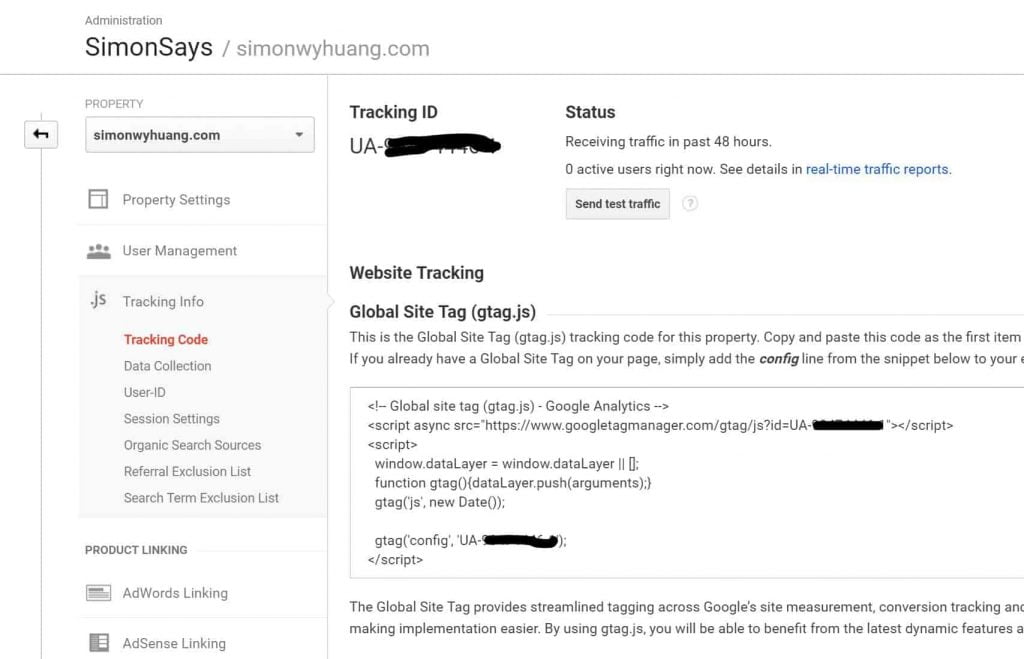 Normally, you will need to get access to function.php, but you're in luck today. If you have bought and installed my
Clinic Kickstarter Template
or you are using the
GeneratePress Theme
, I'll be able to show you an easy way to do this properly. So let's click on Appearance in your WordPress Dashboard navigation and click on "GP Hook" Copy and paste the Global Site Tag script inside the "wp_head" box, click on the box beside "Execute PHP" then "Save Hook" on the right side of the screen. That's it, you're done!

Method #3 – Install Google Analytics with Google Tag Manager
In short, Google Tag Manager (GTM) helps Google marketers to tag different tasks easily and quickly. You can learn more in Google's page here => 
https://www.google.com/analytics/tag-manager/?hl=en_GB
For now, let's sign up a new account for GTM: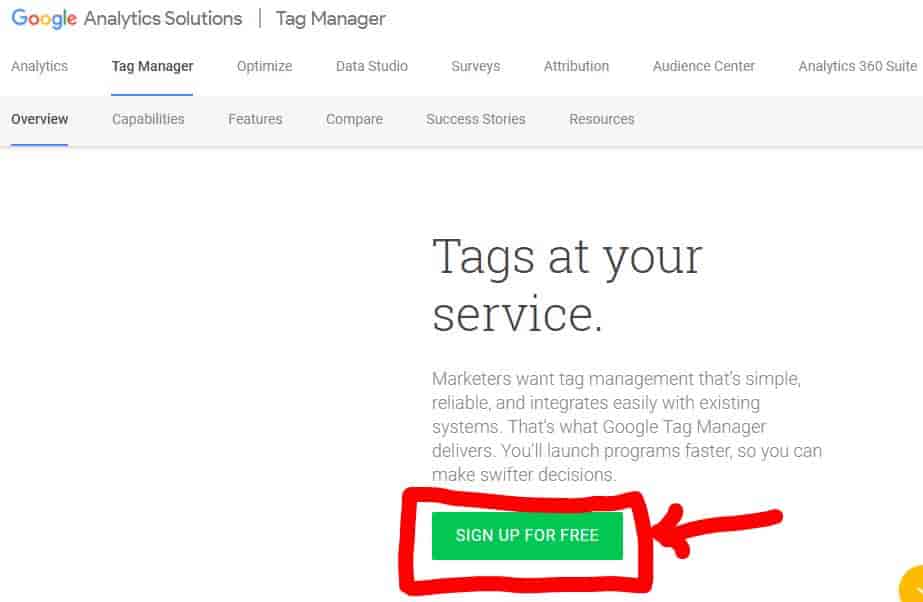 Create a new account: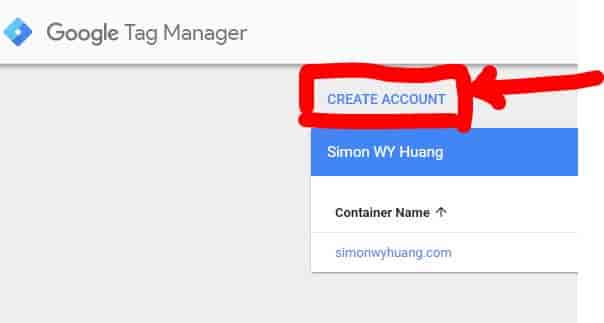 Put your company name as the "Account Name" and click "Continue":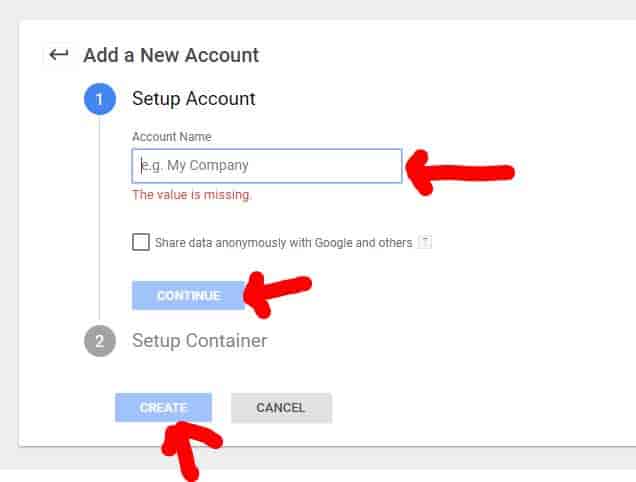 Set up a "container name" with your website URL and select "Web" at where to use container, then hit "create":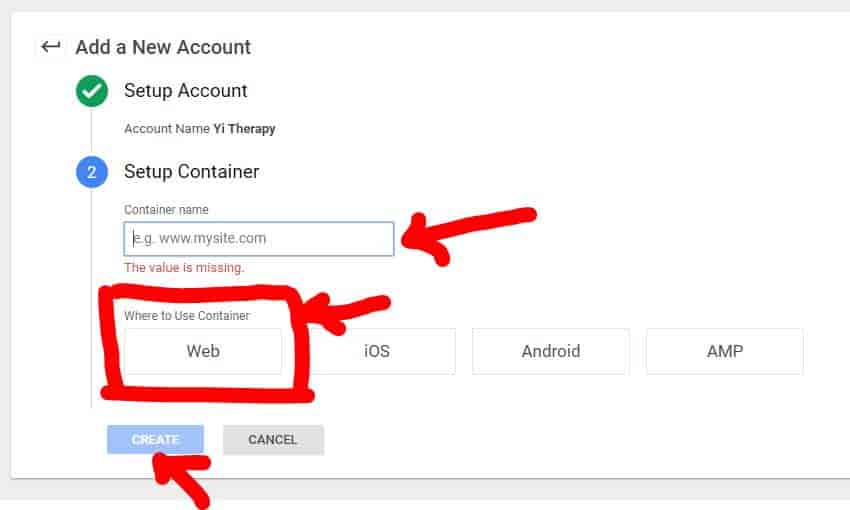 Remember where you inserted Google Site Tag in the previous method? You are going to insert the code in the first box here to the "wp_head" and the second box code to "After Header". Don't forget to click "Execute PHP" and Save Hook.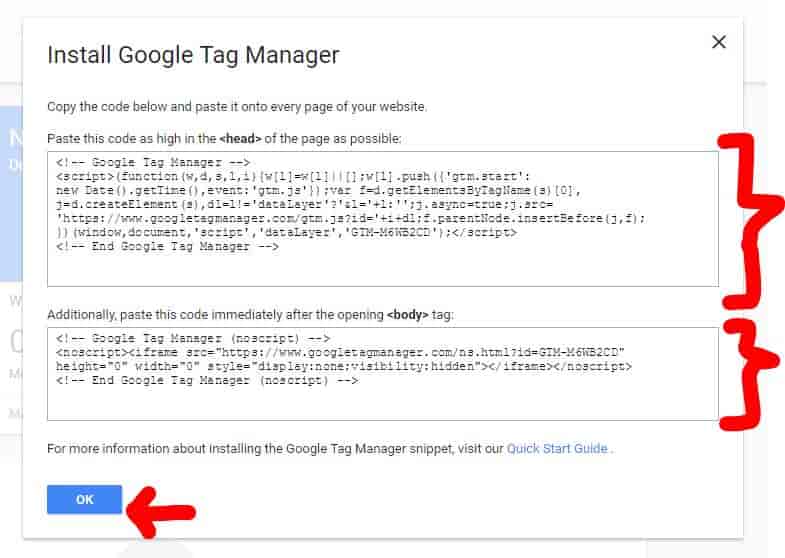 Click on "Tags" on the left navigation: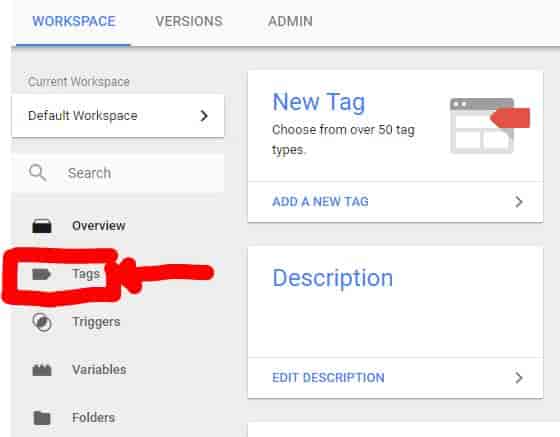 You need to create a new tag now, so click on the red "New" button: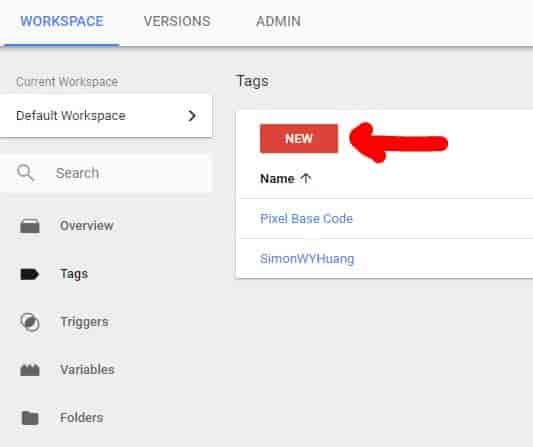 Name your Tag to something like "Google Analytics Settings" and click on "Tag Configuration" and choose tag type "Universal Analytics – Google Analytics":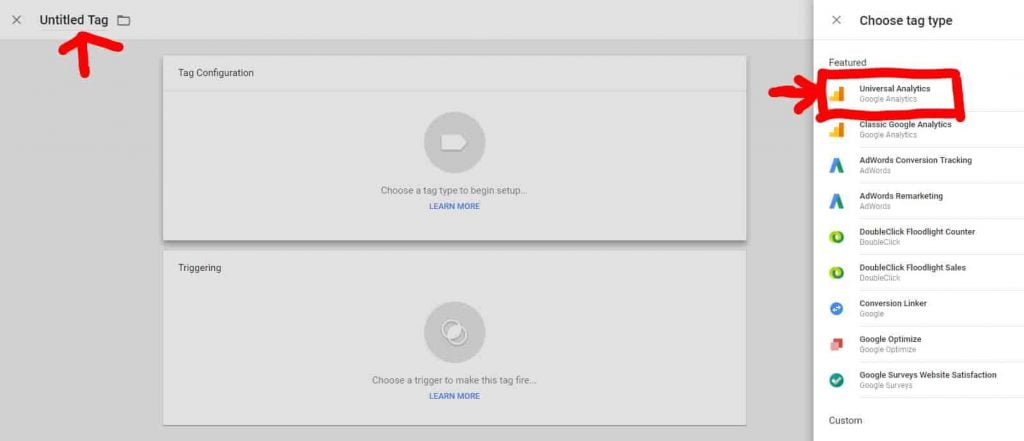 Select a new variable under "Google Analytics settings":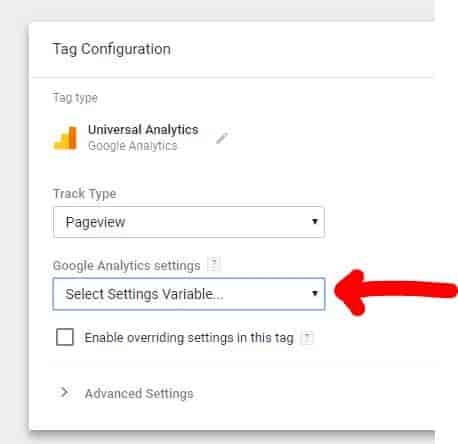 Back to the home screen of GTM, click Submit and you're done!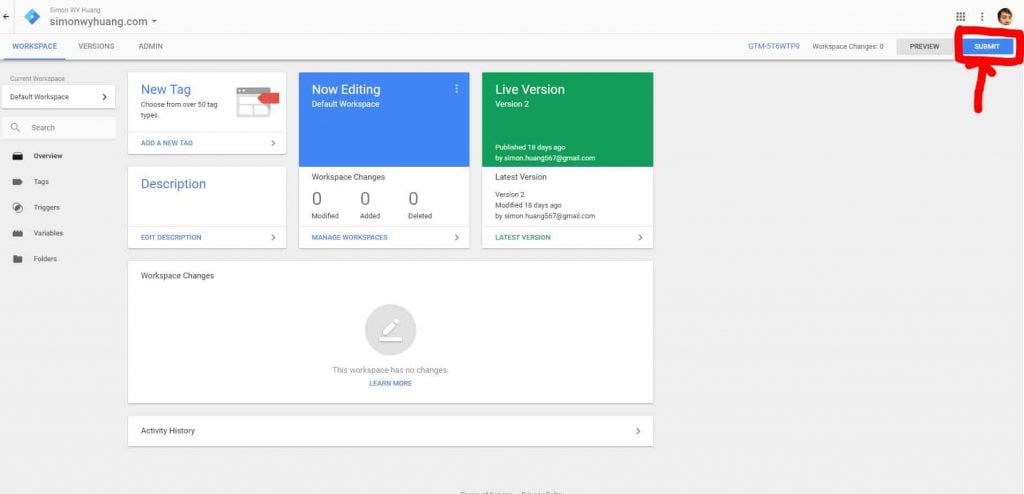 Conclusion
I'm sure you have enjoyed this long guide explaining what Google Analytics does and how you can install it in 3 different methods. It's extremely to note that just installing this tool is not going to do you too much good if you're not getting the right actionable data from it. I strongly suggest you read Neil Patel's article on "
How to Get Actionable Data from Google Analytics in 10 Minutes
". He will clearly explain how to create goals for your business and help you segment your data to hyper-focus your market. So now I am throwing it back to you…
How are you going to implement your Google Analytics data?
Leave a comment below to share your experience! PS. If you love my articles and find them helpful, could you leave me a 
review on Google
? It will not just make my day but my decades!